The Magic Channel ROI Button
Ever dream of entering data about a partner marketing campaign into an application, pressing a button, and having it predict ROI?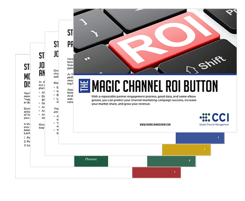 Connecting the dots between channel marketing investment and sales ROI is still a struggle for even the most savvy and well-funded channel organizations. But in the last couple of years, technological steps forward in workflow automation, data integration, analytics, forecasting, and marketing automation have set the stage for a true closed loop.
This evolution means finally being able to measure with certainty what efforts are working and which are a waste of time and energy, thus maximizing impact with limited budget. But the effect of connecting these dots has another, equally important benefit: each step in the channel planning, execution, and measurement lifecycle becomes dramatically more effective and efficient when influenced by the information captured in the other steps.
Download CCI's new eBook "The Magic Channel ROI Button" to find out:
Key metrics to watch for solid ROI measurement
How modern technology platforms are re-writing the rules of what can be measured
The 9 steps of the Partner Investment Lifecycle for improving the measurability, and ultimately the performance, of your channel efforts.
With this guide you'll be able to empower better coordination between groups and smarter decision making for each step in the planning, execution, and measurement phases.