The New World of Channel Incentives
A Joint Webinar with SiriusDecisions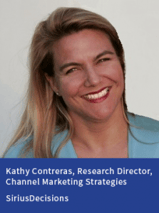 In this webinar, led by Kathy Contreras, Research Director, Channel Marketing Strategies at SiriusDecisions, we will catch you up on the ever changing universe of channel incentives.
Starting with MDF programs, we identify the key challenges and highlight success criteria of traditional incentives. From there, we drill into why it's not just necessary, but imperative, that your incentive programs evolve beyond historical funding programs to the "new world" of channel incentives.
In the webcast, you'll get:
A Review of the Basics:

Key considerations for MDF programs – necessary fundamentals
Defining MDF success measurements – key metrics
How to optimize MDF ROI – get the most out of every dollar

The New State of Channel Incentives:

Where incentives are headed – thinking beyond MDF
A good place to start – partner types and roles
Keys to future success - what is the right blend
Walk with us through how to make the most of today's (and tomorrow's) incentive programs.