The Keys to MDF Success in a Digital World
How's the digital body language of your MDF program?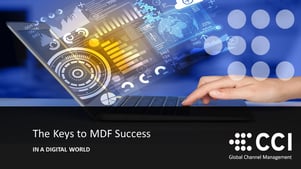 The incentive world seems to be changing daily. The new buyer's journey, digital marketing, social media ROI, cloud-based partners, digital body language, new specialized channels — the channel world is in flux. The one thing that has not changed is the need for growth. And love it or hate it, MDF and partner enablement still play a significant role in these efforts.
A little back to basics, along with a good measure of the latest trends seems like a good place to start. While the core elements of a successful MDF program haven't changed much, the increasingly dynamic context in which they are viewed and the rapidly changing landscape of the buyer's and seller's journey make it necessary to continue to dig deep into the details of each step of even the most historically successful program.
In this informative webinar we:
Explore 8 key best practices to maximize program effectiveness and control waste in today's crazy market
Examine what your peers are doing — what's working, what's not, and what is trending for the future
Discuss how to more quickly recognize these trends and opportunities, and what to do with that knowledge
Review actionable tactics on how to avoid common mistakes often made by the most seasoned channel leaders.
This is a great opportunity to learn valuable best practices that will immediately help you improve the performance of your MDF program.